g0v.tw is an online community that advocates information transparency, focusing on developing information platform and tools for citizens to participate in our society. Substituting the "o" with "0″ in gov, the new "g0v" not only stands for rethinking the role that the government plays from the bottom up, but also represents the world view of 0 and 1 in the digital natives generation.
Based on the open-source spirit, g0v.tw is involved in freedom of speech and information by providing citizens information services that are easy to use. Information transparency helps citizens better understand public issues and how the government works, allowing citizens to make more informed judgments that are not based solely on mass media, participate in governance, and ultimately build a more democratic society.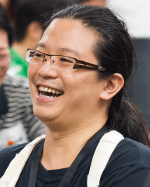 Speaker: Mr Chia-liang Kao (Taiwan)
clkao (Chia-liang Kao) has been an active open source software developer since 2000. He is best known for creating SVK, a distributed version control system based on Subversion. He co-founded the g0v.tw initiative in 2012.
Language: English (with English Slides)
(This is a a session of Hong Kong Open Source Conference 2014 on 29 March, HKOSC is an annual international conference in Hong Kong for global open source community, it is aimed to demonstrate the use of open source software technology, open hardware technology and latest development in the world. HKOSC is targeted for developers, users and promoters.)