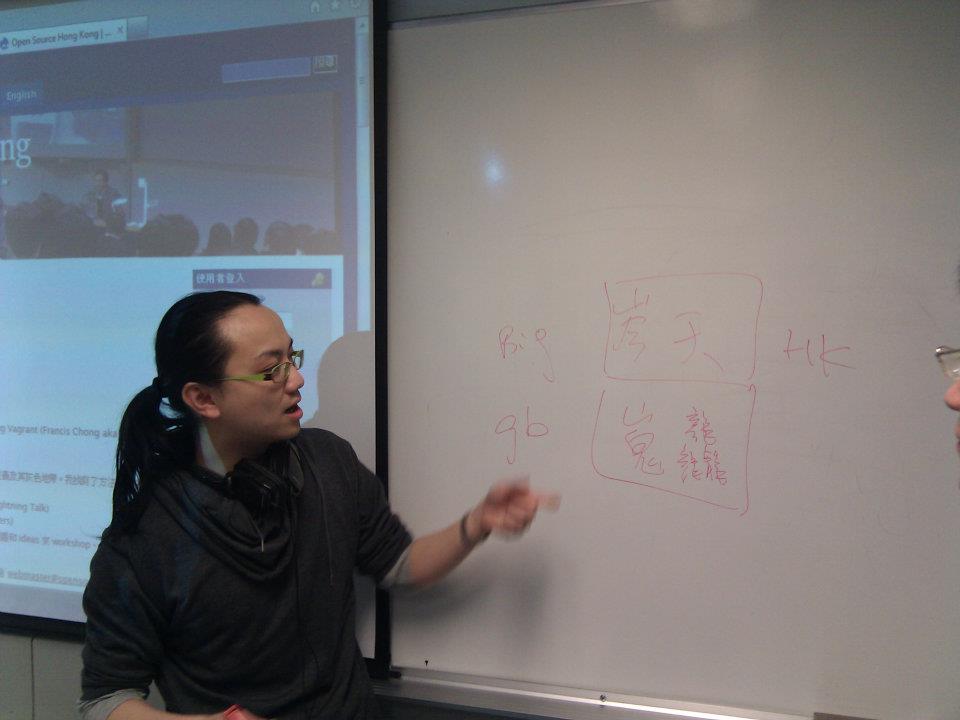 February 4, 2012 (Saturday) at 2:30 PM – 6 PM
Classroom B5-207, 5/F Academic 1, City University of Hong Kong, Tat Chee Avenue, Kowloon Tong, Hong Kong
What will we do ?
bring our open source / Linux questions and ideas to workshop to seek for answers, helps, ideas from others.
in 5-min lightning talks / 25-min talk, present and share your experience, knowledge to us.
assist newbies to install Linux on their own laptops, tell and discuss why and how to use open source / Linux to/with newbies
meet with old friends, making new friends, building your own social network.
having informal dinner together after workshops and chit-chat!
Suggested topics of the month
25-min Talk: Build and distribute virtualized development environment using Vagrant (@siuying)
25-min Talk: Hash! (@wanleung)
5-min Lightning Talk: 細說opera mini和miniweb app的技術之分別和在侵權中,散佈之定義及其灰色地帶。我找到了方法證明2者之分別。 (@wanleung)
5-min Lightning Talk: OLPC XO背後的(主要)軟件:Sugar圖形環境 (馬曉駿)
Workshop – Fanless XO School Server for OLPC (@wanleung / TK Kang
(any more???)
Organisators:
Open Source Hong Kong
Opensource Application Knowledge Association
Hong Kong Linux User Group
我們會做甚麼 ?
帶我們大家的 open source / Linux 問題和 ideas 來 workshop,向別人尋找答案、幫助、ideas。
在 5 分鐘的閃電講 / 25 分鐘演講,向別人介紹和分享你的經驗和知識。
幫助新手在他們 laptop 上安裝 Linux,向新手講述和討論為何、如何使用 open source / Linux。
跟舊朋友聚舊,認識新朋友,建立你在社群的人際網絡。
workshops 後可以一起去吃晚飯,繼續聊天。