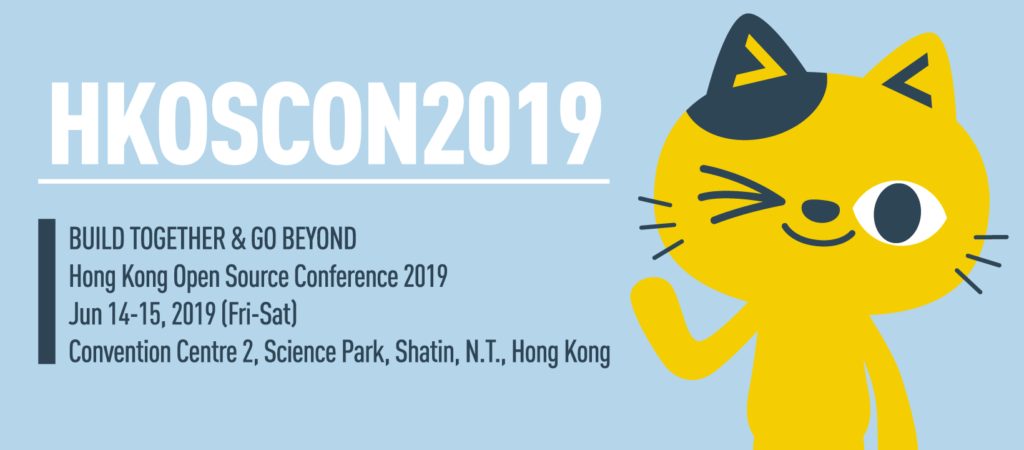 Program Team of Hong Kong Open Source Conference 2019 announce the first round of confirmed sessions.
, A muggle promote Open Source pathways. Take COSCUP sponsorship team for example.(Ying-Hsin Hsu) (Taipei, Taiwan)
Build a JAMStack Blog System with GatsbyJS(Liu Hok Yiu) (Hong Kong)
Build a minimal DBMS from scratch by Rust(Liu, An-Chi) (Taipei, Taiwan, Taiwan)
Continuous Delivery in Cloud Native Infrastructure(Dick Tang) (Hong Kong) (Cantonese)
DApp Game – Blockchain random number generation method and implementation(Huang Shih Chin(Xixi)) (Taipei, Taiwan)
DIY Wealth Management App (NG DAVID) (Hong Kong)
Decentralized Bare-Metal Operating System Provisioning(Yu-Chiang Huang 黃宇強) (Taichung, Taiwan)
Decentralized data marketplace based on Distributed Ledgers(林京樺 (Jing-Hua Lin), 陳冠廷 (Kuan-Ting Chen)) (Tainan, Taiwan)
DevOps with Ansible, From Native to Kubernetes(Wong Hoi Sing Edison) (Hong Kong)
Diagnosis the internet's health – Mozilla Internet Health Report(Irvin Chen) (Taipei, Taiwan)
Formal Verification on Smart Contract(陳奕熹) (Tainan, Taiwan)
Haxe transpilation to PHP: static typing, arrow functions, metaprogramming and more. (Aleksandr Kuzmenko) (Russia)
Homemade scientific clusters(Taihsiang Ho) (Taipei, Taiwan)
How we started an open source APM project and troubleshooting with it(SungWook Kim) (South Korea)
Ice-cream robot: creating QR code ice-cream coupons with GravityForms (and minimum coding)(Judy Wong) (Macau)
Introducing Open Technology to Hong Kong Education(Haggen So) (Hong Kong)
Introducing TUS – resumable file uploads protocol(Sunday Ku ) (Hong Kong) (Cantonese)
Lesson Learned from a large scale MySQL Cluster implementing project(杜修文 (Ivan Tu)) (Taiwan) (Mandarin)
Let's Build a Bitcoin Client in Rust from Scratch(Andy Shu) (Hong Kong)
Make Hyperledger Fabric: Reactive and CQRS-ES(Ross TH Tang) (Hong Kong) (Cantonese)
Moving to Python 3 while keeping the Mozilla fuzzing lights on(Gary Kwong) (United States/Canada)
MySQL性能优化实战(Practical MySQL Performance Tuning and Optimization)(叶金荣/Ye Jinrong) (中国大陆(China Mainland)) (Mandarin)
Open Standard and Database of Languages in Hong Kong context(Jeremiah Chung) (Hong Kong) (Cantonese)
PiM25: An crowdsourced weather data project(sosorry) (Taiwan)
Plant Identification System with AI + AR(Denken Chen, Ru Lu, Wang Fumin) (Taipei, Taiwan)
Plug It In! My SQL Authentication with Windows via PAM(Patrick Jolliffe) (Hong Kong)
R for Exploratory Data Analysis(Chris Choy) (Hong Kong)
Raspberry Pi history, tips and use case(Masafumi Ohta) (Japan)
Status-quo of TensorFlow Lite on(Koan-Sin Tan) (Hsinchu, Taiwan)
The 8 essential steps to secure your MySQL(Ryusuke Kajiyama) (Japan)
To introduct students open source conference(李昊轩) (中国大陆) (Mandarin)
Troubleshooting & Performance Tuning Best Practices(Ivan Ma) (Hong Kong)
VLC and open-source multimedia news(Remi Denis-Courmont) (Finland)
What Hyperledger Fabric 2.0 bring to us(刘宇翔David) (Hong Kong)
What's new in Haxe 4(Andy Li) (Hong Kong)
WordPress SEO(ivan so) (Hong Kong) (Cantonese)
解構香港人用標楷體的困惑(Kingman Leung) (Hong Kong) (Cantonese)
Schedule in Google Sheet format can be found here.