Free Swift Workshop and Contest for HK Student – iOS App Dev and Challenge 2019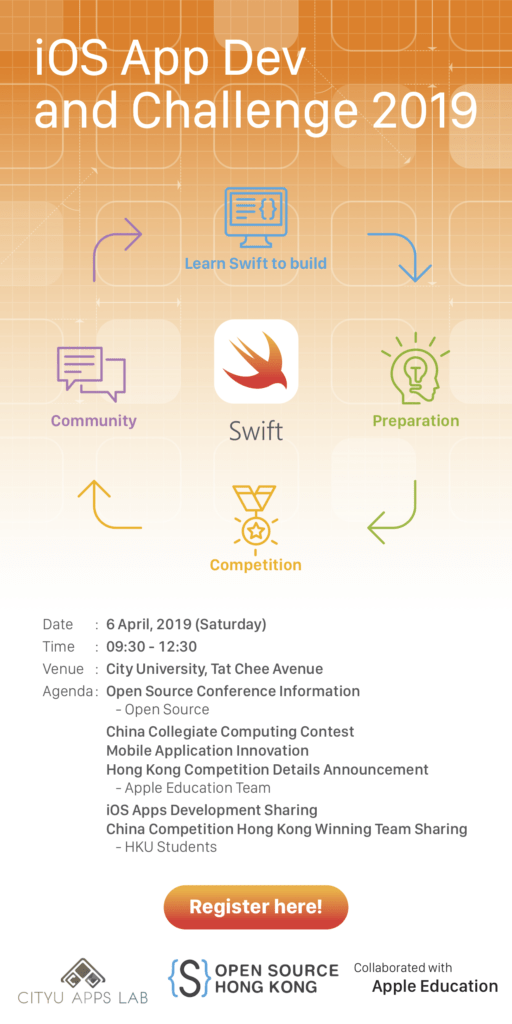 Have you ever think of inspiring people a better life with technology?
Ready to learn a new programming language to transform yourself to be a trend creator?
Good news to all University & Secondary students – to learn something excited around Open Source & turn your creativity into the 'Next Big Thing'.
"iOS App Dev and Challenge 2019"
OSHK has collaborated with Apple Education to host this app development workshops and contest. A good chance to learn Swift to build, turn the idea into an iOS App and win a ticket to attend WWDC 2020!
Interested to find out more? Don't miss the chance to join our briefing session on Apr 6.
Date: 6 April 2019, Saturday
Time: 09:30-12:30
Venue: 2510, Li Dak Sum Yip Yio Chin Academic Building, City University of Hong Kong.
Agenda:
Open Source Conference Information
China Collegiate Computing Contest
Mobile Application Innovation
Hong Kong Competition Details Announcement
iOS Apps Development Sharing
China Competition Hong Kong Winning Team Sharing
Register today to secure your seat. All CS/EEE/DESIGN & BA university students, as well as secondary students, are welcome~
If you are non-applicable to these workshops, please share the event to the talent too!