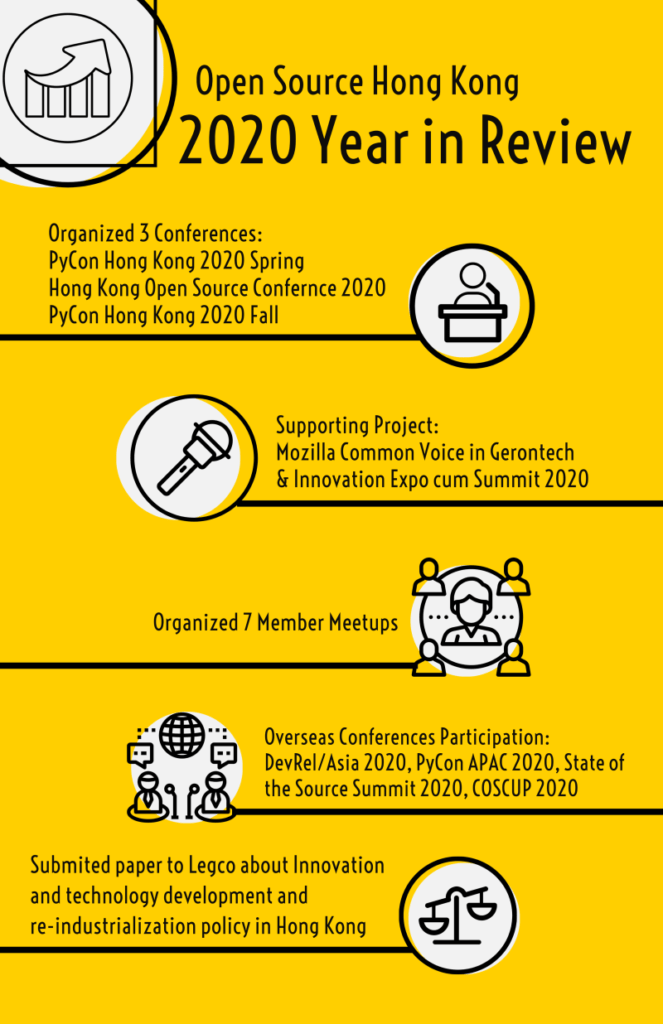 ---
[中文版]
Hong Kong Open Source Conference 2020

Hong Kong Open Source Conference 2020 in June shifted from a physical conference to virtual at the very last minute due to the fact that there was an unexpected change of venue arrangement. But together with Hong Kong Creative Open Technology Association and Hong Kong Linux User Group, we managed to host the 2 days conference online, providing 3 full tracks of 28 sessions and 2 workshops.
To learn more: HKOSCon 2020
PyCon HK 2020 Spring & Fall

We organised the virtual PyCon HK 2020 Spring and Fall in May and November, providing 35 sessions by 31 speakers.
To learn more: PyCon HK
Common Voice – Chinese (Hong Kong) Voice Crowdsourcing
Common Voice is a public voice crowdsourcing project initialized by Mozilla.
From March 2019, we started the Common Voice Chinese (Hong Kong) (aka zh_HK) contribution which is aimed to collect Cantonese voices in Hong Kong. With the help of many enthusiastic Hongkongers, we prepared 5000+ sentences and kickstarted the recording and validation phase on 27 November.
In June 2020, Common Voice project released the first zh_HK dataset in the size of 1GB. In terms of public promotion and education, JET Magazine published an interview of Common Voice in Hong Kong for Cantonese on the September issue, and a 4-days Common Voice exhibition booth in November at Gerontech and Innovation Expo in HK Conference & Exhibition Centre, reached out to approximately 25,000 public visitors.


In July 2020, 1,588 users contributed their Cantonese voices to zh_HK, and 36 hours of recording were validated.
The primary language of Hongkongers is the Cantonese 廣東話 (廣東 pronounce as Canton). The Cantonese is the primary language used by few millions of Hongkongers, it is the prominent and special international city in which we manage the Cantonese voice collection in Hong Kong.
To learn more: Mozilla Common Voice
OSHK Virtual Monthly Meetups
Jul – CutiePi 開放樹莓派平板 by Penk
Jul – CircleCI 101: Ship quality code, faster by Masahiko Funaki
Aug – Openwords by Marc Bogonovich
Sep – DIY open source keyboard by HaWay
Oct – Raspberry Pi Live Streaming in practice by Martin Siu
Oct – Using MySQL Workbench with MySQL by Ivan Ma
Nov – Automating Jenkins Deployment and Configuration with Docker, JCasC, Job DSL, and Pipelines by Daniel Li
Dec – Building Kubernetes-native IDE for Developers with Eclipse Che by Peter Ho
To learn more: Open Source Hong Kong Events
Our Submission to Panel on Commerce and Industry of the LegCo
In the response to the invitation from the Panel on Commerce and Industry of the Legislative Council in Hong Kong, our organisation, Open Source Hong Kong made a submission on June in English and Chinese to describe the open source development in recent year and our opinion on Innovation and technology development and the re-industrialization policy in Hong Kong.
To learn more: Submission on Innovation and technology development policy from Open Source Hong Kong
New EXCO Members in 2020
Ms. Daisy Maris Fung, Mr. Kingman Leung and Mr. Ronald Hung joined the executive committee from January 2020. Ms.Daisy Maris Fung is a Digital Marketing expert who helps OSHK, HKOSCon and PyCon HK on social media management and websites revamp. Mr. Kingman Leung is the founder of 2 local open source projects in recent years – FreeHKFonts 自由香港字型, Common Voice Chinese (Hong Kong). Mr.Ronald Hung helps us with administrative and illustration works for years at conference events and community building.
To learn more: Executive Committee 2020
International conferences and community events
July – Hour of Code Hong Kong Webinar, Sammy was the speaker.
September – PyCon APAC 2020, Sammy was a panelist at the panel discussion.
September – OSI's State of the Source Summit 2020, Sammy was the panelist and representative of OSHK.
November – Dev/Rel Asia, Sammy was the speaker.
December – UNESCO TechCul – Ideathon to Develop Digital Solutions for the Culture and Creative Sector, Sammy was the Mentor and OSHK was the Supporting Organisation.
December – ProductTank HK – When traditional firm asks you about innovation, Calvin Tsang is the speaker.
To learn more: Keynote & Invited Speeches